Senior Teams: Round 1, 14th April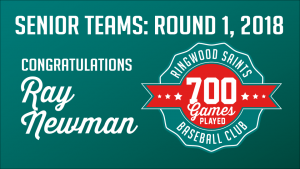 Round one of the 2018 season is here. Congratulations to Ray Newman who will play his 700th game for the Saints this week.
All players MUST have completed their online registration before their first game to be eligible to play. If you are having difficulty completing this process please contact the club immediately. Good luck Sainters!
[toggle title="A1 & A2″ open="false"]
A1

 

A2

Away V Research
@ 2:40

pm

B. Hodgson
B. Findlay
J. Evans
J. Barnett
O. McMahon
J. Sheldon-Collins
N. Unland
L. Cartwright
G. Alvarado
A. Whiteford
S. Bucello

Away V Research
@  12:15

pm

L. Unland
S. Crebbin
J. Bent
BM. Barrett
R. Hodgson
M. Wilhite
M. McDermott
T. Fitton
C. Collins
L. Papanicolou

Manager: Adam Bright
Ph: 0403 150 919
Manager: N. Unland
[/toggle]
[toggle title="A3 & A4″ open="false"]
A3

 

A4

Home V Waverley
@ 2:40

pm

G. Kingston
A. Araujo
A. Holloway
G. Wilkinson
P. Mc Crystal
E. Stones
M. Legg
J. Rogers
M. Oxworth

Home V Waverley
@  12:15

pm

C. Hamlyn
R. Pal
K. Kingston
C. Rogers
P. Rogers
A. Bright
M. Trevean
S. Linely
Reinhart

Manager: Michael Legg
0402 902 418
Manager: Jonathon Rogers

[/toggle]
[toggle title="EE & EL" open="false"]
EE

 

EL

(Old Boys)
@ 12:15pm

Ra. Newman
Ro. Newman
D. Simonton
R. Simonton
R. Moore
D. Moore
S. Treble
P. McArthur
L. Rigby
P. Tyndal

Away V Croydon
@ 2:40

pm

Chopper
L. Painter
S. Maggs
Millsy
M. Miles
B. Tyzzer
W. McManus
J. Callow
J. Wilkinson
[/toggle]