Senior Teams: Round 2, 21st April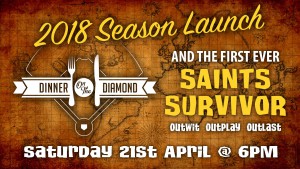 Our younger juniors get to start their season this weekend while some of our Seniors look for their first real hit out after some wash outs last weekend. Forecasts indicate we should have a beautiful day – all the more reason to make sure everyone is at Ringwood come 6pm for our Season Launch (Dinner on the diamond and Survivor challenge).
A reminder that all players MUST have completed their online registration before their first game to be eligible to play. If you are having difficulty completing this process please contact the club immediately. Good luck Sainters!
[toggle title="A1 & A2″ open="false"]
A1

 

A2

Home V Nth Bawlyn
@ 2:40

pm

B. Hodgson
B. Findlay
J. Evans
J. Barnett
O. McMahon
J. Sheldon-Collins
A. Whiteford
L. Cartwright
G. Alvarado
M. Wilhite
S. Bucello

Home V Nth Bawlyn
@  12:15

pm

J. Evans (DP)
S. Crebbin
J. Bent
M. Barrett
R. Hodgson
M. McDermott
C. Collins
T. Fitton
A. Bright
L. Papanicolou
L. Unland
A. Jones

Manager: Adam Bright
Ph: 0403 150 919
Manager: N. Unland
[/toggle]
[toggle title="A3 & A4″ open="false"]
A3

 

A4

Away V Nth Bawlyn
@ 2:40

pm

E. Stones
M. Legg
A. Holloway
G. Wilkinson
P. Mc Crystal
C. Rogers
A. Araujo
J. Rogers
M. Oxworth
G. Kingston

Away V Nth Bawlyn
@  12:15

pm

C. Hamlyn
R. Pal
M. Trevean
T. Passlow
P. Rogers
S. Linely
W. McManus
B. Lewis
Reinhart
M. Miles
L. Painter

Manager: Michael Legg
0402 902 418
Manager: Jonathon Rogers

[/toggle]
[toggle title="EE & EL" open="false"]
EE

 

EL

(Old Boys)
@ 12:15pm

Selected from
P. McArthur
P. Tyndal
R. Moore
R. Simonton
Ra. Newman
S. Treble
D. Moore
Ro. Newman
D. Simonton
Millsy
S. Maggs
D. Better
B. Tyzzer
J. Callow
Chopper

BYE (No game)
[/toggle]