Senior Teams: Round 7, 25th May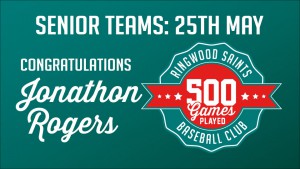 Round 7 sees another Saint reach 500 games! Current A4 Manager Jonathon Rogers joins his brother and father in this exclusive club.  Congratulations Jono!
Our A1 & A2 teams face off against Research in front of our first Sinners Luncheon for the season.
If you are available but not listed, please message us through facebook and will get you into a game.
[toggle title="A1 & A2″ open="false"]
A1

 

A2

Home V Research
Saturday @ 2:40

pm

W. De Jong
R. Hodgson
J. Evans
J. Swanton
O. McMahon
J. Sheldon-Collins
M. Whitle
N. Unland
C. Collins
K. Kingston
S. Bucello

Home V Research
Saturday @ 12:15

pm

O. McMahon (DP)
L. Cartwright
G. Kingston
M. Barrett
B. Findlay
M. McDermott
A. Whiteford
T. Fitton
M. Oxworth
J. Bent

Manager: Adam Bright
Ph: 0403 150 919
Manager: J. Evans
[/toggle]
[toggle title="A3 & A4″ open="false"]
A3

 

A4

Away V Nth Bawlyn
@ 2:40

pm

A. Holloway
S. Crebbin
P. McCrystal
T. Passlow
A. Araujo
E. Stones
W. Macrokanis
G. Wilkinson
M. Miles
M. Legg

Away V Nth Bawlyn
@  12:15

pm

C. Hamlyn
M. Trevean
P. Rogers
S. Perkins
L. Painter
C. Rogers
W. McManus
J. Rogers
J. Wilkinson
T. Antelic

Manager: Michael Legg
0402 902 418
Manager: Jonathan Rogers


[/toggle]
[toggle title="D Reserve" open="false"]
D Early

 

(Old Boys)
Home V Melb Uni White
@12:15pm

E. Velez
R.Pal
R. Simonton
D. Simonton
R. Moore
Slugger
Ra. Newman
Ro. Newman
S. Treble
L. Rigby
[/toggle]