Sponsor the Saints in 2021
We would like to invite you to become a key ingredient to our ongoing success by becoming a sponsor of the Ringwood Saints Baseball Club for the 2021 season and beyond.
Various packages are available that can be tailored to meet your organisations specific needs.
Our members and players are extremely appreciative of the local community's continued support and actively support our corporate partners businesses where practical. Whilst the club has worked hard to establish its current position, the challenge is to maintain and improve on our current status as a leader in the Melbourne Winter Baseball League.
We understand that our business partners are a key ingredient to our success not only financially but also for the skills and knowledge they contribute via their association with our members and players. The club understands the importance of making contributions back to our business partners and we continue to develop initiatives that enable us to promote your business and its products to our members, players and supporters.
Sponsorship of a local sporting club can bring many benefits to your business. We aim to provide you with value for money packages that can bring many returns for your investment.
These benefits include effective brand advertising with exposure to a targeted local market as well as wider exposure via our website and other social media platforms.
The Ringwood Saints Baseball Club is a member of the The Melbourne Winter Baseball League Inc. The MWBL is the largest winter baseball league in Australia. Encompassing over 30 clubs, 175 junior and senior teams, and 2000 registered players.
Thank you for considering a business partnership with the Ringwood Saints Baseball Club through one of our sponsorship products.
We appreciate the time you have taken to consider a partnership with our club and look forward to a long and mutually beneficial relationship.
How your support will help our Club
Established in 1968, the Ringwood Saints Baseball Club has committed itself to providing a safe and enjoyable environment for players of all ages, friends and family to enjoy the sport of Baseball.
The Ringwood Saints is a family club with an emphasis on getting parents involved in their children's activities. Father-son combinations are frequently seen playing on Saturday afternoons, and most of our senior players have played together since their junior playing days.
The Ringwood Saints Baseball Club considers all funds coming into our organisation as being integral to the running of the club and to ensure a strong future for both our players and members. Your sponsorship will directly invest in this development of our members, coaching staff and volunteers, including:
Player & Coaching Development
Your sponsorship will directly influence the development of players of all abilities and will help with coaching programs and accreditation.
Maintaining Affordable Membership Fees
We pride ourselves on offering the most affordable membership fees available, especially for junior members. Attracting and maintaining members is vital to the growth and success of our club. Minimising the cost of membership makes the Ringwood Saints Baseball Club a more viable option for a wider range of participants across all age groups and abilities.
Facilities Development
We are embarking on an ambitious program to redevelop our facilities over the next 5 years. The first project is a redevelopment of our clubrooms rooms and toilet facilities. The project is for the benefit of current and future players, our spectators and all visiting spectators.
Options on Sponsorship Contracts
All initial contracts are for one year's duration apart from our Platinum Package which is for two years. Sponsors option on subsequent future renewal of sponsorship will be offered at the conclusion of the contract period. (1st April 2021 to 31st March 2022).
Signage
All signs remain the property of the Ringwood Saints Baseball Club.
The Executive will agree upon all positioning of signs.
All maintenance of the signs will be the responsibility of the Ringwood Saints Baseball Club.
The Club reserves the right to prohibit certain products for advertising.
Website
All Sponsors are to be included in advertising on the club's website, and included on our sponsors page at www.ringwoodsaints.com.au/sponsors
Clubroom TV
All Sponsors are to be included on the Scrolling TV within the clubrooms.
Sponsorship Packages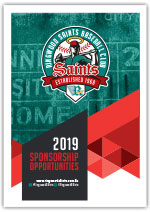 Various packages are available that can be tailored to meet your organisations specific needs.
Please download our 2021 Sponsorship Opportunities (PDF) for full details and an application form.