Under 13s RD Minor Div1 Premiers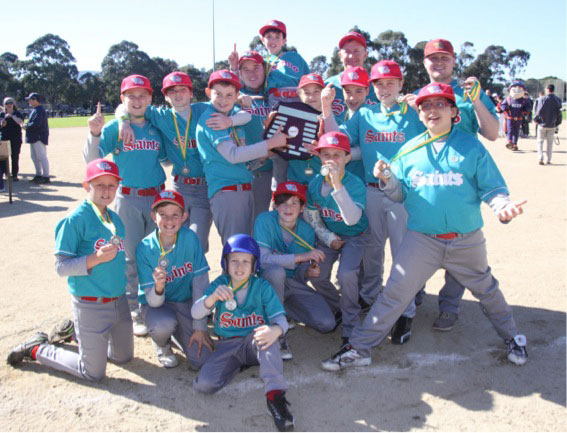 Congratulations to our Under 13s on winning the Ringwood Districts Minor Div1 Premiership. Played against Croydon we had a great game, with contributions by the whole team again, which earned us a deserved 8-2 victory.
The U13's enjoyed a great 2014 winter season.
With a team list of 12 players, most of whom we're playing their very first baseball season, we attacked the competition with some really strong performances.
Training nights were well attended, and the kids were all keen to participate, enjoy and learn.
The kids got to experience various positions of the baseball diamond and learn the responsibilities of these certain positions.  This versatility proved valuable right throughout the season.
We finished the regular season on 13 wins & 1 loss and in first place which was a great effort.  Our Finals fortnight was fantastic, with contributions by all the kids.
We defeated Knox 7-4 in a closely fought game.  We won through to the Grand Final against Croydon.  We had a great game, contributions by the whole team again, which earned us a deserved 8-2 victory. 
The team deserved their success as Premiers after being the dominant team all season. Congratulations go to each and every player.
Congratulations also go to Becky and Charlie for earning representative selections in the U14 & U12 teams respectively.
I must thank Jacquie Bright for her tireless efforts and encouragement throughout the season.  Thanks also to all the parents who assisted, especially tackling the game day duties of ground set up and scoring. 
Lastly many thanks to Gerard and Keal for their great assistance throughout the season.  I appreciated having extra coaches for training and game day duties, and the kids really enjoyed their involvement. 
I hope everyone has enjoyed the season and that the interest in baseball is continued.
Richard Vagg